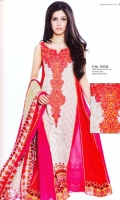 Ittehad Textiles continue their premium collection of embroidered swiss voil in vibrant colors. Textile embroidery is an art rooted in tradition. Hand-done embroidery from the sub-continent was always considered a quintessence of quality, reflecting an exclusive fashion option.
This is a very sensational collection with wardrobe full of stunning prints in striking hues. Every print is bouquet of rich blooms – tiny appliqued flowers, petal necklines, over-blown roses, delicate ferns and foliage mixed and matched with stripes, elegant native patterns and borders.
Click on any picture below to see full sized.